What is 2nd Studio anyway?
2nd Studio is a game graphic studio based in Copenhagen, Denmark.

Dennis Jensen and Nikki Starostka whom both share the same passion for games founded the company in 2013. We are an independently owned and operated Danish company, led by a small team of creative and passionate individuals who are committed to furthering the art of visual storytelling through interactive media.

Our vision is clear; we want to help developers and publishers alike to make their games shine. We want their games to be more breathtaking and more immersive than ever.

Our team has a proven track record of success.
Having worked on feature films as well as massmarket games, our team is more than suited for the job. Crafting innovative visual experiences for games and films for clients like Disney, Logic Artists, Kiloo etc. we have a lot of experience. This is what we do.

How we do it.
In our client projects, we are typically involved from the very first stages of production, collaborating closely with our clients to provide concept development and pre-visualization before moving on to producing the final assets. Thus the backbones of our services are: visual development, environments, characters, animation and effects.



Our values


Passion

Creativity

Communication

Professionalism

We're passionate about what we do. We love games, and we love our craft. Passion also implies that our aim is to stay truly innovative - taking our craft and the games we work on to the next level.
We go above and beyond every day to prove it. This is what we love. It's in our DNA. Creativity also means that we are open minded and all ideas are welcome, we love new exciting projects, where creativity can grow and succeed.
We never lose sight of what matters most: our relationship with the client. We only succeed when our clients succeed. We speak the same language as our clients, ensuring a smooth process.
We're here to serve our clients. We produce high quality work, and take an agile and iterative approach to game development that lets us move quickly into prototyping.
We live for a high level of professionalism, and that's what we are known for.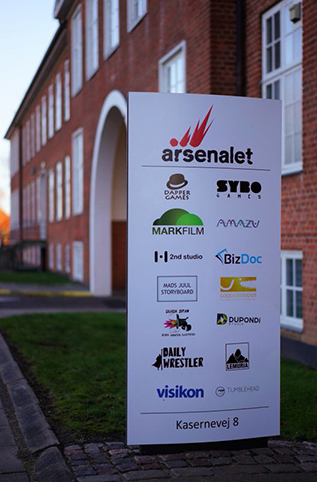 We have a truly inspiring working culture.
Working on games is a privilege and should always be fun and creative,
In other words; we strive to thrive.

Our philosophy makes us agile.
As a smaller company we don't rely on a hierarchical structure, but rather a more horizontal setup where everyone has a role with responsibilities that fit perfectly together like puzzle pieces. This philosophy makes us very agile.
We take decisions quickly and effectively because everyone knows what everyone is doing and we rely on each other's expertise.

NIKKI STAROSTKA
co-founder | creative director
Nikki is known for his dedication to the field of art direction. With a hard working mentality he never fails to stun with his appealing artwork. The product is a result of an open minded approach to design combined with years of experience. Nikki graduated with a bachelor of arts from the Animation Workshop at the young age of 22. While studying Nikki was working as a freelance artist, always improving his skills. He proceeded to work for Blue Byte Ubisoft as a graphic artist producing game assets, illustrations and design on their franchise Anno Online. Nikki is now an essential part of 2nd Studio both as a game director and with an exceptional skill of bringing the concepts into workable game assets. He influences all aspects of the production setting a high quality bar for the visual assets and the game feel.

Nikki is always up for a cozy chat and it's even better if it involves a cold beer and the conversation topic is LEGO or Star Wars, maybe both.
DENNIS JENSEN
co-founder | technical director
Dennis is both an artist and a technical person, which gives him the perfect skillset as a Technical Director. Dennis is taking the best from two worlds and combining them into games. He is the glue between the artist and the programmer. Dennis is never shy of grabbing a challenging opportunity and is constantly exploring ways to improve and enhance workflows. Dennis graduated with a bachelor of arts from The Animation Workshop in January 2013. He was a 3D trainee at Onyx Studio in Paris, France where he quickly got more responsibility and ended up modelling 3D characters for their feature film Mune: Guardian of the Moon. With a love for communities he created a Youtube channel that helps people learn the 3D software Maya. The channel has over 1.3 million views and 8.200 subscribers. Dennis strives to squeeze every lemon, which means delivering the absolute best product even with very small means.

After work Dennis enjoys and cold strong beer at the local pub. He is always up for a casual chat about anything from a gym workout to game news.